Introduction
Homelabbing has always been an exciting and educational experience for me. It's a journey that started with a single server and has now evolved into a powerful 3-node cluster, allowing me to explore and experiment with a variety of technologies. In this article, I will share my personal experiences and insights on building and expanding my homelab, focusing on the benefits of using a 3-node VMware vSphere and vSAN cluster.
My Homelab Beginnings: The Single Server
My initial foray into homelabbing began with a single server. As described in the previous article, this setup allowed me to explore and play with the basics of networking, servers, and other technologies. However, as my interests and needs grew, I realized that I needed a more powerful and flexible infrastructure.
That's when I decided to venture into the world of VMware vSphere and vSAN, which opened up new possibilities for virtualization and storage.
The Evolution: A 3-Node Cluster
As my homelab journey progressed, I decided it was time to expand my setup to take full advantage of the capabilities offered by a 3-node cluster. This upgrade allowed me to reap the benefits of high availability, redundancy, improved performance, and scalability.
To create my 3-node cluster, I added two HPE DL380 Gen9 24xSFF servers to my existing Supermicro 1U server.
Server 1: Supermicro 1U - codename: "Kimchi"
CPUs: 2 x Intel Xeon E5-2697v3 running at 2.60 GHz with 14 Cores / 28 Threads
Memory: 256 GB of DDR4 running at 2333MHz
Storage: 4 x 500 GB SSD hard drives + 1 x 1 TB NVMe PCIe + 1 TB NVMe SATA.
Networking: 4x Gigabit Ethernet ports
Server 2: HPE DL380 Gen9 24xSFF - codename: "Tonkotsu"
CPUs: 2 x Intel Xeon E5-2697v4 running at 2.3 GHz with 18 Cores / 36 Threads
Memory: 256 GB of DDR4 running at 2400MHz
Storage: 12 x 900 GB SAS hard drives + 2x 500 GB PCIe NVMe SSD hard drives raid 0
Networking: 4x Gigabit Ethernet ports + 2x SFP+ ports
Server 3: HPE DL380 Gen9 24xSFF - codename: "Okonomiyaki"
CPUs: 2 x E5-2696v4 running at 2.2 GHz with 22 Cores / 44 Threads
Memory: 256 GB of DDR4 running at 2400MHz
Storage: 12 x 900 GB SAS hard drives + 1x 500 GB PCIe NVMe SSD
Networking: 4x Gigabit Ethernet ports + 2x SFP+ ports
The rack cabinet
Adding 2 more servers to my homelab allowed me to realise that the rack cabinet I had was not big enough to accommodate the new hardware. So, I decided to upgrade to a 29U rack cabinet with 1000mm depth, which provided me with more space and better cable management and airflow.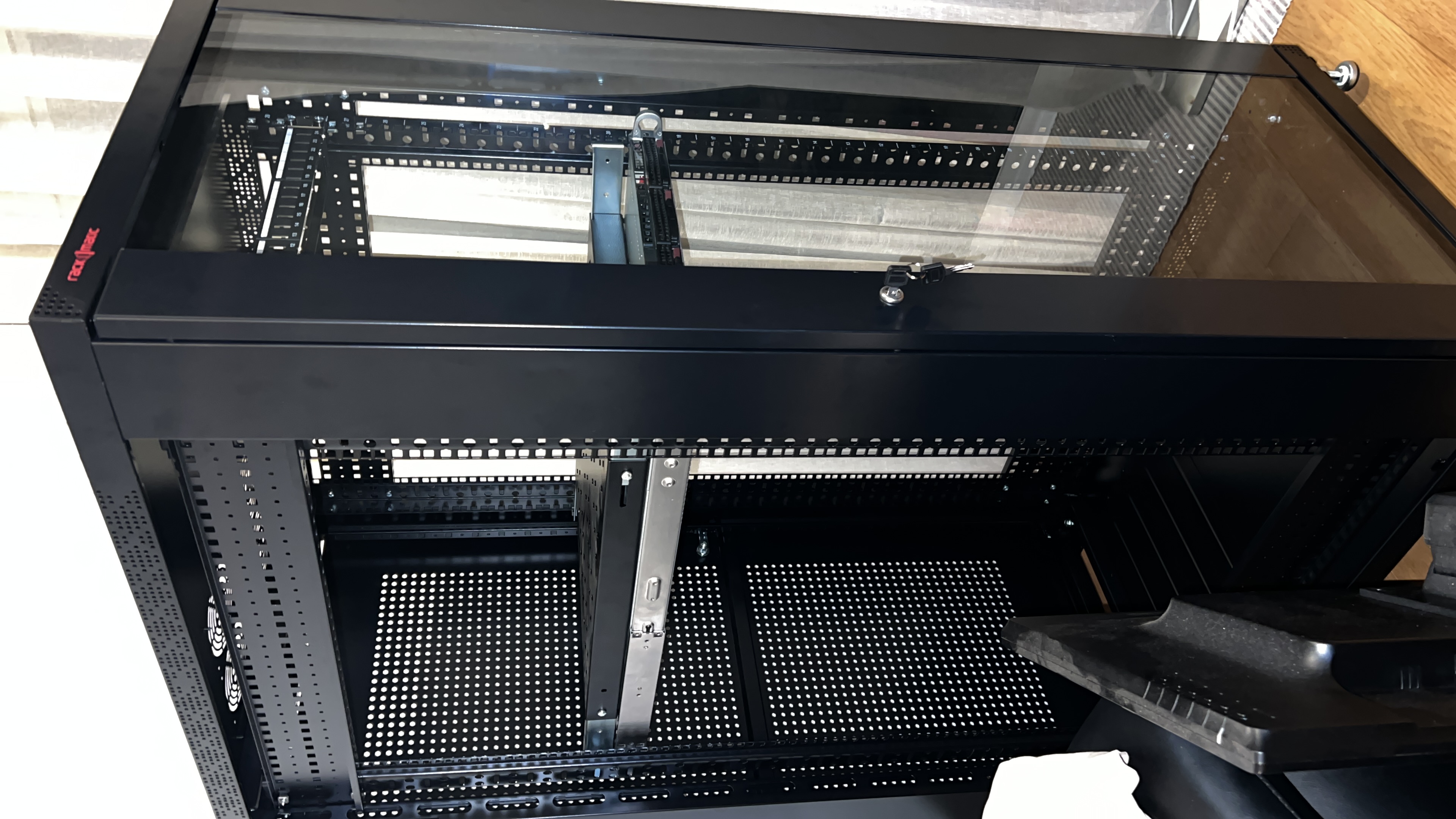 The networking
To support the increased networking demands of the 3-node cluster, I also added a Mikrotik CcS326-24G-2S+RM switch, which supports 10Gbps networking for higher data transfer speeds on the data VLAN. This switch was crucial in ensuring smooth communication between the servers and the efficient management of data traffic.

With this powerful 3-node cluster in place, I've been able to run multiple Kubernetes clusters in vSphere, utilize vSan for storage, and experiment with automating VM provisioning and management in vCenter. This expanded setup has provided me with countless opportunities to explore new technologies and use cases, fueling my passion for homelabbing even further.
The Benefits of a 3-Node VMware vSphere and vSAN Cluster
Personal Learning and Growth: One of the most significant benefits of building a 3-node cluster in my homelab has been the opportunity to learn and grow as an IT professional. I've gained hands-on experience with VMware vSphere and vSAN, networking, and other technologies, which has proven invaluable in my career.

High Availability and Redundancy: A 3-node cluster provides high availability and redundancy, ensuring that my homelab continues to function even if one of the nodes fails. With vSphere's High Availability (HA) feature and vSAN's data redundancy, I can rest assured that my virtual machines and data are safe.

Improved Performance and Load Balancing: The 3-node cluster has allowed me to achieve better performance and load balancing in my homelab. VMware vSphere's Distributed Resource Scheduler (DRS) ensures that resources are optimally allocated across the cluster, preventing bottlenecks and enhancing overall performance.

Scalability: As my homelab needs have grown, the 3-node cluster has provided me with a scalable foundation. I can easily add more nodes, storage, or other resources as required, ensuring that my homelab remains adaptable and capable of handling my evolving requirements.

Experimentation and Exploration: A 3-node cluster has enabled me to experiment with various technologies and use cases, such as running multiple k8s clusters in vSphere, automating VM provisioning, and testing VM migration within the cluster. This hands-on experience has been both enjoyable and informative, helping me expand my knowledge and skills.
The Future of My Homelab
One of my upcoming goals is to make my homelab even quieter, ensuring that it seamlessly integrates into my home environment without causing any disturbance.
In a future article, I will dive into the topic of creating a quiet homelab, discussing various strategies such as selecting silent equipment, optimizing cooling and airflow, and isolating noise-generating components.
Conclusion
And so, my homelab odyssey continues to be an exciting and fulfilling pursuit. With every new piece of equipment and every configuration tweak, my passion for homelabbing grows stronger. Who knows what the next chapter will bring? But one thing's for sure – the journey has been a thrilling ride so far, and I can't wait to see where it takes me next!